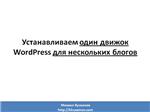 This e-book is a video instruction on the subject of how to use one engine WordPress, work with an unlimited number of blogs!


You save your energy, time, money, when you feel that blogs operate when their pieces 20 or 30, it has become very convenient.

You no longer need to update each engine, or to update the blog plug-ins separately, 35 times to upload a design theme on 35 blogs.

With it's over!


This guide will allow you to concentrate on the essentials - actually on their blogs, but not on their maintenance.


The instructions can understand even tea! But if something does not work - I can advise.


-----------

CAUTION After successful payment is required to enter your e-mail, which you will receive an email with a link to download video instructions as well as the login and password to activate this manual. Activation occurs automatically after the data input. After activation you will be able to view the video instructions only on the computer on which you have activated it!
Immediately after payment you will receive a form to fill in the registration data, which will have to fill the following fields:

- E-mail address (email);

These data will be transferred to the seller to complete the transaction of sale of goods.
No feedback yet