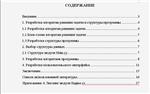 Program Description:

1. When you start the program the main window of the program, co-located torus standard control Windows Media.

2. To start playback of a multimedia file, you must choose a file through a dialog box, the address of which will then pass the video processor in the ActiveX component WMPLib.

3. The program menu contains two items: File and the program. When you click in the File menu item, a list of unfolding possibility-governmental actions: Open Exit. When you click the menu item File-Open -otkroetsya file selection dialog box. When you click the menu item File-Exit the application closes. When you click the menu item About window appears with information about the program and its developer.

-----------------

To launch the project need Visual Studio 2005 or higher. (Language C #)

Buying a product, you get the file to the project and all the source code + settlement and explanatory note in Foreman .doc
You can also order a change of course work for you, contact the seller.
No feedback yet