Content: text (96 symbols)
Available: 163
Uploaded: 05.03.2017

Positive responses: 24
Negative responses: 0

Sold: 395
Refunds: 0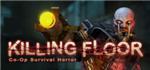 ----------------------------


About the game:

Killing Floor - co-op horror shooter survival with a first-person, which is unfolding in the streets of towns and abandoned suburbs Britain shortly after the failed experiment in the creation and cloning of "super-soldiers". You and your comrades - members of the Armed Forces, dropped into these locations with a simple goal - to survive as long as possible, cleaning landing zone from the consequences of a failed experiment!
Killing Floor ( Steam key region free )
24.04.2017 9:05:55
Отличный продавец, всё пришло!!! Спасибо))
06.05.2016 18:46:32
спасибо все хорошо
17.04.2016 12:44:50
Супер
08.04.2016 12:52:24
Все прошло на Ура!В первый раз пользовался сервисом Plati.ru!Спасибо вам особенно продавцу!)
12.03.2016 18:24:44
Благодарю
01.03.2016 22:33:27
все работает, спасибо
29.02.2016 14:45:35
Все пришло, спасибо.
02.03.2015 15:10:19
Всё пришло, отлично.