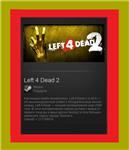 This zombie apocalypse, Left 4 Dead 2 (L4D2) - vysokootsenenny this sequel to the possessor of many awards, Left 4 Dead - the best cooperative game in 2008.

In this co-op horror shooter with a first-person, you and your friends will be held in five large campaigns through the city, swamps and cemeteries of the American South, from Savannah to New Orleans and finishing.

You will play as one of four new survivors using to fight the enemies are many zubodrobitelnyh guns, including updated ekszemplyary from the first game. In addition, you will be able to pour out his aggression on infected by a terrible melee weapons, such as a chainsaw, ax and deadly frying pan.

All these toys you have to apply to three terrifyingly scary new special infected (or already be used against you). In addition, you will be able to meet with the five "non-standard" normal zombies, including frightening sump.

A new level of addictive gameplay of the first part of the game and brings an updated "Director". Now he can change the weather, passage ways, not to mention the number of enemies, effects, sounds and other things that will match your level of play. Every time L4D2 is a new "testing" you, change you approach and adjusting to the style of your game.

Note : This gift can only be activated in these countries: Armenia, Azerbaijan, Belarus, Georgia, Kyrgyzstan, Kazakhstan, Moldova, Tajikistan, Turkmenistan, Uzbekistan, Ukraine, Russia.

The new standard for games with cooperative transmission from the creators of Half-Life, Portal, Team Fortress and Counter-Strike.


Over 20 new weapons and items, including 10 new melee weapons: ax, chainsaw, frying pan, baseball bat, you´ll knock the brains of the damned zombies!


New survivors. New story. New dialogs.


Five large campaigns that are available for the passage of a cooperative game mode, "Battle" and "Survival".


The all-new multiplayer mode.


Non-standard normal zombies. In each of the five new campaigns will be at least one kind of "non-standard ordinary" zombies, who will meet you only in this campaign.


Updated "Director": an advanced technology called "Director" L4D turns into a unique game where your actions will determine what effects, music, and the number of enemies will pour out on you in the game. In L4D 2 provides an updated "Director", which can now change the path locations, objects, weather and lighting at different times of day.


Statistics, table top and achievements.
Minimum:
Supported OS: Windows® 7 32/64-bit / Vista 32/64 / XP
Processor: Pentium 4 with 3 GHz
Memory: 1 GB for XP / 2GB for Vista
Video card: compatible with DirectX 9, 128 MB VRAM, supporting Shader model 2.0. ATI X800, NVidia 6600 or better
Hard disk: at least 13 GB of free space
Sound Card: DirectX 9.0c compatible
Please leave your feedback after the purchase!
Activation Instructions:
1. You need to download and install Steam
http://steampowered.com/download/SteamInstall.msi
2. Go to your account or register a new one.
3. Next, you need to follow the link received after purchase, log in under your account Steam and take a gift to yourself in the library or add to your inventory.
4. After activating the game appear in the library or in your inventory where you can already start to play or activate later / give to a friend.
=============
Dear customers - positive feedback from you to raise our rating, thereby increasing our sales and thereby making it possible for you to reduce the prices of our products!
=============
PS All Gift Buy only through official channels.
==================================
See also:
==================================
https://mob25.com/item/1634316
- Counter-Strike: Source (Steam Gift ROW / Region Free)
https://mob25.com/item/1587096
- Counter-Strike 1.6 (Steam Gift ROW / Region Free)
https://mob25.com/item/1587088
- Garry´s Mod (Steam Gift / RoW)
https://mob25.com/item/1611357
- Terraria - Steam GIFT / REGION FREE
https://mob25.com/item/1600909
- Medal of Honor 2010 (Steam Gift ROW / Region Free)