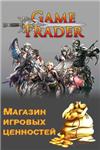 How to order:


1. When ordering, specify the first gold on the server you are interested.

2. Pay for your purchase, in the upper right side of the page you can enter the amount of gold or the amount of the purchase.

3. After payment, you will receive a unique 16-digit code.

4. Provide a unique code, the game server and the nickname of the character to the operator. It should be contacted by the Inland Plati.ru chat, Skype or ICQ, the information specified in us.

5. Gold ArcheAge delivered by mail. Delivery takes 5 minutes, with the proviso that the on-line operator is available gold!


-----------------------------


Мы работаем БЕЗ ВЫХОДНЫХ с 10:00 до 02:00 по московскому времени. Если Вы оплачиваете покупку в нерабочее время, мы доставим заказ в начале следующего рабочего дня.