Content: text (17 symbols)
Available: 247
Uploaded: 16.08.2019

Positive responses: 96
Negative responses: 0

Sold: 520
Refunds: 1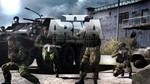 Edition type: Steam Key (key) / REGION FREE

=======================================
Thanks to 10 years of continuous work on a cursor, ARMA II can brag of the most realistic fights on the open area around the world. A game models physics of the real world, interaction of materials, complementing all this with change of day and night in real time and dynamic wind, various weather effects of the environment. Simulation of a fighting environment is so effective that on the basis of this cursor the training simulator for training of the real fighters has been created worldwide.
In spite of the fact that action of a game takes place in the territory of the fictional Post-Soviet state Chernorus, the in-game world has been created on the basis of a piece in 225 square kilometers from the real world! Highly detailed landscape of a game is very exact copy of the real area, simulated by means of spatial geographical data. The surrounding nature of this region has been completely recreated and also inhabited by people and various living creatures. Wild animals walk on the wood while inhabitants of Chernorusi try to survive in epicenter of fighting.
27 division of ground prospecting forces of the USA have landed near the former Soviet republic Chernorus in the third part of the well-known series of military simulators for the personal computer from "Bohemia Interactive", creators of games "the Operation Flashpoint: Cold War" and "Armed Assault".
The group of prospecting forces "Edge" of the first has gone to the attack. This elite team of five fighters is ready to plunge into fight not only for the territory, but also for the population of the country. The power of US Marine Corps and the Russians observing from the North has already heated a situation to a limit. The future of Chernorusi keeps on a knife edge...

• NONLINEAR PLOT - Order troops throughout all nonlinear campaign full of surprises and unexpected turns.
• IMPROBABLE REALISM - Investigate 225 square kilometers of highly detailed area simulated on the basis of the present geographical data and also test everything 81 types of arms and more than 120 types of the equipment.
• REAL SIMULATOR - A game imitates various aspects of fight in the environment from behavior of bullets, interaction of materials and kinds of ammunition before influence of weather conditions on the result of fight.
• POWERFUL MULTIPLAYER - You pass a campaign in the cooperative mode or join the mass network fights calculated on 50 people.
• ADVANCED AI - Artificial intelligence of new generation: any scripts any of in advance prepared ways. All fighters act depending on a situation.
• EDITOR of LEVELS - Create own missions by means of the editor of missions, ordinary for development, and become a part of one of the biggest and creative communities for PC games.