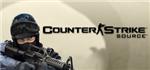 Title: Counter-Strike: Source
Genre: Action
Developer: Valve
Publisher: Valve
Release Date: 1 Nov, 2004

About This Game
THE NEXT INSTALLMENT OF THE WORLD´S # 1 ONLINE ACTION GAME
Counter-Strike: Source blends Counter-Strike´s award-winning teamplay action with the advanced technology of Source™ technology. Featuring state of the art graphics, all new sounds, and introducing physics, Counter-Strike: Source is a must-have for every action gamer.
• Log in to your Steam account, or register a new one if you have not already have it.
• Click on the link purchased.
• Log in to your Steam-account
• Select the activation of the games in the library, or add to your inventory.
• After that, the game will appear in the "Library" section, and you can download a purchased game.