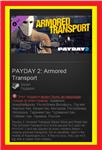 После оплаты Вы получите уникальную ссылку(ключ) для активации игры в Steam.

*Данный товар имеет региональные ограничения и может быть активирован в следующих странах:
AM AZ BY GE KZ KG MD RU TJ TM UZ UA

Для запуска требуется Steam-версия игры Payday 2.
Requires the base game Payday 2 on Steam in order to play.

The Armored Transport DLC is the first DLC pack for PAYDAY 2 and lets players do every heisters dream – robbing armored transports, full of valuables, right in the middle of Washington D.C. If they´re lucky, they can hit it big with a classic train robbery.

Up to four friends co-operate on the heists, and as the crew progresses they have a chance to unlock an even more rewarding job – doing a classic train robbery. New weapons, weapon modifications, masks, patterns and materials have been added to let players continue to build and customize their own guns and gear.
ПОЖАЛУЙСТА, ОСТАВЬТЕ СВОЙ ОТЗЫВ ПОСЛЕ ПОКУПКИ!
ИНСТРУКЦИЯ ПО АКТИВАЦИИ:
1. Необходимо скачать и установить Steam
http://steampowered.com/download/SteamInstall.msi
2. Зайти под своей учетной записью или зарегистрировать новую.
3. Далее необходимо пройти по ссылке, полученной после покупки, авторизоваться под своей учётной записью Steam и принять подарок себе в БИБЛИОТЕКУ или добавить в ИНВЕНТАРЬ.
4. После активации игра появиться в БИБЛИОТЕКЕ или в вашем ИНВЕНТАРЕ, где вы можете уже начать играть или активировать позже/подарить другу.
=============
Уважаемые покупатели - положительные отзывы от Вас поднимают наш рейтинг, тем самым увеличивая наши продажи и тем самым делая возможность снижать для вас цены на наши товары!
=============
P.S. Все гифты покупаются только официальным путем.
==================================
Смотрите также:
==================================
https://mob25.com/item/1634316
- Counter-Strike: Source (Steam Gift ROW / Region Free)
https://mob25.com/item/1587096
- Counter-Strike 1.6 (Steam Gift ROW / Region Free)
https://mob25.com/item/1587050
- Left for Dead 2 (Steam Gift ROW / Region Free)
https://mob25.com/item/1611357
- Terraria - Steam GIFT / REGION FREE
https://mob25.com/item/1600909
- Medal of Honor 2010 (Steam Gift ROW / Region Free)