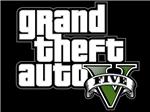 Activation: STEAM
Publisher: Rockstar Games
Developer: Rockstar North
Language: Russian subtitles
Region: Russia, Ukraine and other CIS countries

 NOTE: This gift has limitations. It can only be activated in the following countries: Armenia, Azerbaijan, Belarus, Georgia, Kyrgyzstan, Kazakhstan, Moldova Moldova, Russia, Tajikistan, Turkmenistan, Ukraine and Uzbekistan

GRAND THEFT AUTO V, popular game ROCKSTAR GAMES OPEN WORLD

To conduct a series of daring robberies and survive in inhospitable big city street lovchile who retired bank robber and terrifying psychopath have to deal with the most dangerous and insane criminals and showmen and civil servants of the West Coast.

Version Grand Theft Auto V for the PC has a lot of graphic and technical improvements. Such landscapes of Los Santos and the Blaine County you have not seen! In addition to the higher range of drawing, the game is presented with a frequency of 60 frames per second and 1080p, as well as the possibility to increase the resolution to 4K. You will also be waiting for a broad range of innovations in the gameplay:

• new weapons, new vehicles and new businesses;
• New species;
• a dense stream of cars on the road;
• A more detailed vegetation;
• enhanced the effects of damage and weather conditions, and much more

Especially attractive look all these innovations because ultra-high resolution, significantly improved lighting models, shadows and more detailed textures, as well as an increased frame rate.

In Grand Theft Auto V for the PC mode is also added in the first person, which can be activated in a single game, and in the Grand Theft Auto Online. Due to this mode will allow players to an entirely new way to look at carefully crafted game world.

Grand Theft Auto V for the PC also includes a new editor Rockstar, giving to the player a full set of tools for editing, creating and publishing game clips directly - as in the Social Club, as well as on YouTube.

Grand Theft Auto V comes with Grand Theft Auto Online - a dynamic network of the world in the style of Grand Theft Auto, which allows users to play along with each other. World Grand Theft Auto Online accommodate more users in a single game session can participate up to 30 people. In Grand Theft Auto Online for PC will be available, all released materials are Rockstar, deeds and gameplay elements, and much more!

EXCLUSIVE MATERIALS returned to the player

To reward the fans of Grand Theft Auto V for the return of a new, more detailed version of Los Santos and the Blaine County, the company Rockstar Games has prepared a number of exclusive items especially for users who are already playing in the Grand Theft Auto V on PlayStation®3 or Xbox 360. All of these items related to certain occupations in the game world, designed to help you discover new types of exciting pastime in Grand Theft Auto V.


GTA ONLINE TRANSFER OF CHARACTERS

Players will be able to transfer their characters Grand Theft Auto Online and details about their achievements with PlayStation®3, PlayStation®4, Xbox 360 or Xbox One on the PC.