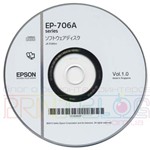 File Type: disk image with the extension * .iso

Description: In order to use the downloaded disk image file Epson EP-706A, ie, establish with him the necessary software and device driver or burn to a CD you must use any program to work with disk images, for example: Daemon Tools, Nero, Alcohol 120%, and others.

Emphasize that in order to establish that the driver of the image, it is not necessarily written to disk, it is enough to mount the image in the program by pressing a couple of buttons.

Drive for Epson EP-706A will help you install the printer on your laptop or computer, as well as you can set the program to scan and manual devices.