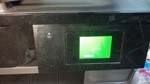 The necessary files to lower the HP 8610 printer firmware version to any version of the latest version to FDP1CN1416AR. Firmware is not carried out several complex movements and takes about 5 minutes, it does not require special knowledge, but may again make your printer ink cartridges or CISS see.

Compatible only with OS Windows

Archive includes a firmware files and a text document with instructions for use.