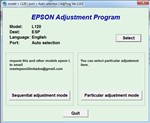 If you have a question, ask it to the seller by clicking the "ASK QUESTION" button

Attention! Before making a purchase, carefully read the description.
Epson L120 Adjustment program is a service program for the specified printer models, the program allows you to reset the diaper counter (processing, absorber), prescribe the printhead ID, initialize the printer and other functions.

Features of the program:
Interface language is English

The program resets the Main pad and Platen pad counter for the following printer models:
L120

- The program works without activation.
- The program does not work on Mac OS
- Some antiviruses can swear on the program, so while working with the program it is worthwhile to disable them or add the program to the exceptions.
- After paying for the program and downloading it, launch the program by double-clicking the mouse directly from the archive

AND SHOULD LEAVE FEEDBACK ON PURCHASE !!! THANK!!!